Importance of Rahu and Gomed in Indian Vedic Astrology
May 18, 2023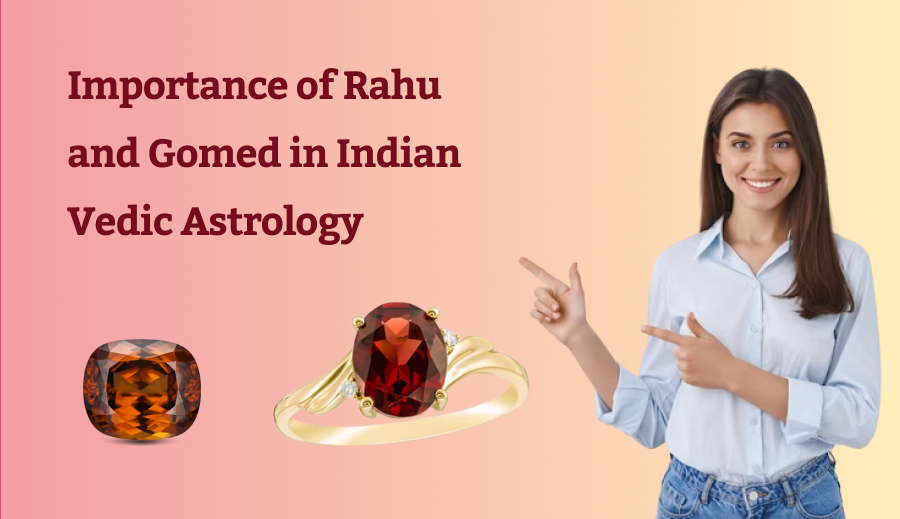 Astrological Benefits of Wearing Hessonite (Gomed) to Tackle Rahu
When it comes to Vedic Astrology, you must have heard about Rahu. So what is it and why is it so important?
The Hullabaloo About Rahu
According to Vedic Astrology, Rahu may not be a part of the actual solar system but it is known as a shadow planet as per Hindu Mythology. Under its malefic effects, natives of this planet tend to be secretive, chaotic, and defiant. It is infamous for wreaking havoc in people's life and disrupting the natural harmony and balance in one's relationships.
Although the effects of Rahu may seem negative, it is capable of great benefits if its malefic influence is countered. Once the power of Rahu is strengthened, you can gain immense advantages from this powerful celestial body.
What Does Hessonite Have to Do With Rahu?
Gomed is also known as 'Rahu Ratan.' Since it is ruled by Rahu, it pleases the celestial body and gains favour that is bestowed upon it.
It is the perfect solution to the Rahu problem and brings in the positive effects of Rahu to the life of the wearer.
Buy Authentic Vedic Hessonite Here
Gomed also has a very strong connection to the 5 Fruits of Life –
Dharma
Artha
Dhyan
Kama
Moksha
It helps one achieve the pinnacle of the human condition by leading them to a righteous spiritual pathway.
Mind-Boggling Benefits of Wearing the Hessonite
Gomed is a warehouse of cosmic energies just waiting to be released. With Rahu on your side, if you wear a Hessonite, you can look forward to myriad benefits such as the ones below:
Removes obstacles blocking success and prosperity
Protects from evil eyes, malicious intents, and black magic
Improves physical, mental, and spiritual health
Boosts confidence and concentration
Brings peace, calmness, and positivity to the mind
Benefits respiratory, intestinal, and heart-related ailments
Helps fight stress and insomnia
Married Couples
When the honeymoon phase ends couples often fall into a cycle of arguments. Lack of conflict resolution can disbalance any relationship. Gomed helps clear misunderstandings and strengthens marital bonds, bringing back the spark between the couple.
Students
Gomed develops razor-sharp focus, concentration, and drive that helps students steer the ship of their academic journey to success. It clears the mind of clutter and eases mental stress too.
Working Professionals
This stone is worn by those who want success, fame, position, and financial strength. It can serve as an asset for people in creative industries and media. It also benefits those who require constant inspiration as it clears the mind and allows for imagination.
This unique gemstone offers practical benefits for one to see and experience. Not only does it look captivating, but it also brings a new zeal and pops of positivity into your life. Get your stunning lab-certified Gomed right here!