How to Identify the Quality of Natural Emerald Stone?
February 25, 2023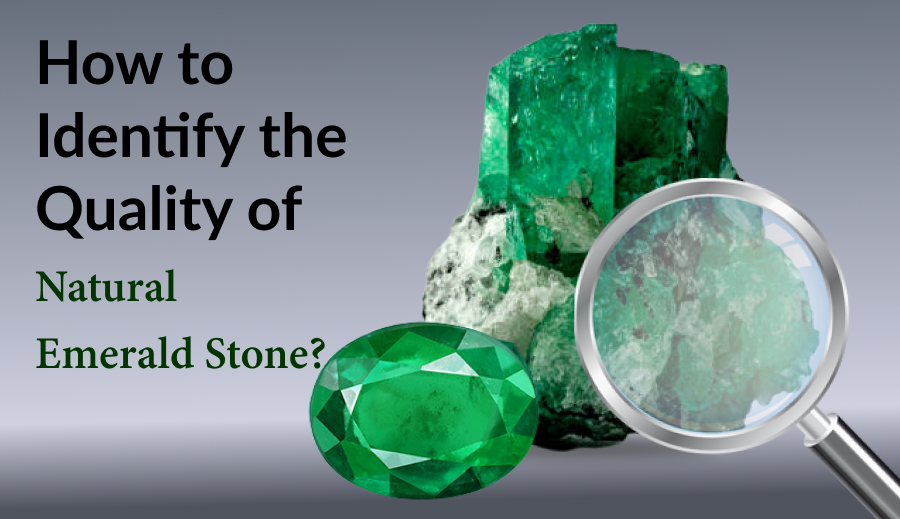 How to Identify the Quality of Natural Emerald Stone?
Emeralds stone are an excellent addition to your jewelry repertoire. They emanate sophistication, grace, and wisdom, making them a popular choice amongst precious stone enthusiasts. Although when seeking to buy one, it's important to know your Emeralds.
There are 3 types of Emeralds Stones:
Natural
These are authentic gemstones that are mined from the Earth. They are not created in labs.
Synthetic
These gemstones are real Emeralds compositely. The only difference is they are lab-grown.
Imitation
These are not Emeralds at all, rather some other material that looks and is being passed off as an Emerald.
Your Personal Checklist to Finding a High-Quality Emerald
Whether you're looking for an Emerald to pursue Gem Therapy or for ornamental purposes, it is important to know what you're buying.
A lot of times people may buy a fake or synthetic stone and then be disappointed as to why it did provide the benefits claimed by Vedic Astrology. A 'natural' gemstone comes from the Earth and radiates the cosmic vibrations of the universe which is why it is effective for gem therapy.
Here's your guide on how to check if the Emerald you're purchasing is real:
Black Light Test
Natural Emeralds will show blue-green or pure green hues under a black light. The most desirable Emeralds usually have these hues with a vivid color and a lighter tone.
Refraction
Authentic Emeralds hold 1.57 – 1.58 as their Refractive Index. Anything below is fake.
Inclusions
Most natural gems have inclusions. Emeralds showcase inclusions often referred to as 'jardin' or 'garden' in French as they look mossy to the eye.
Magnification
Upon magnification, genuine Emeralds do not show irregular patterns or impeccable clarity.
Chelsea Test
This test helps identifies synthetic gems. If you see red colour being emitted through its dichromatic optic filter, the gem is not a natural one.