Benefits of Wearing Emerald Stone
March 5, 2020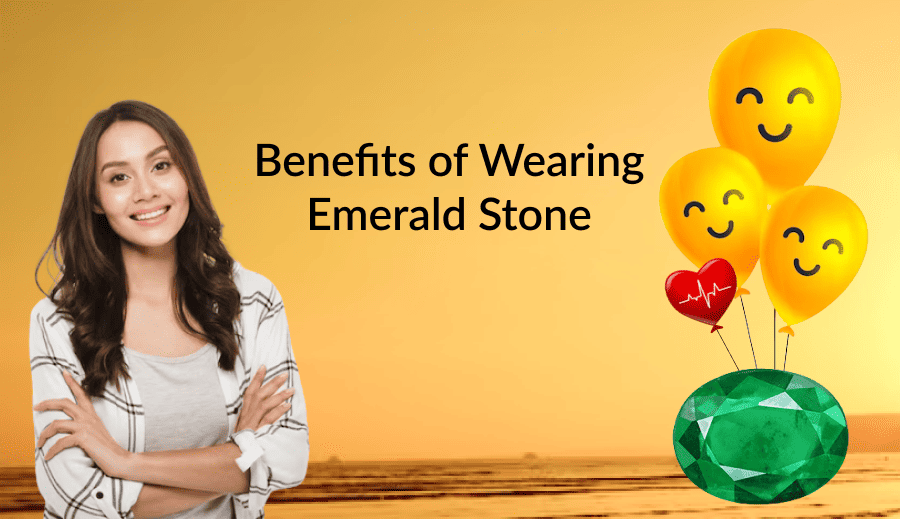 Benefits of Wearing Emerald Stone
Emerald has traveled to modern times across ancient civilizations the world over, royalty in every nook and corner on the earth and celebrity culture of today's  'social media'  crazy world.
The symbol of love and beauty and epitome of Greek goddess 'Venus', Emerald is believed to bring eloquence in one's speech, influence in businesses, memory in academics, fidelity between partners, expression of attraction, love, devotion, and adoration among lovers.
Its green hue ranging from light to dark thanks to chromium dioxide is said to repel disenchantment, spell, and negativity.
Be it arts where creativity is the key to success or be it business where influence and convincing through soft skills is a game-changer, Emerald has the power of Mercury that could change one's life forever.
So it is not an exaggeration to claim that Emerald Gemstone can heal your heart and health both.
One of the greatest minds to have ever been born, Aristotle is not alone to instruct noblemen to wear Emerald for persuasive excellence, protection from the bad in general, and healing energy of the stone.
One of the most fantasized beauty with mystical powers to have ever walked on the earth in Egypt, Cleopatra used to wear Emerald for both beauty and brain. Nero, the Roman king used to see through a transparent Emerald to absorb its 'calming energy'.
Alexander, the great is said to wear it around his girdle as a talisman during his invasion campaigns. Elizabeth Taylor, one of the finest Hollywood actors and Queen Elizabeth 2nd  share not only their first name but an abiding passion for Emerald.
Babylonians would sell Emerald some 4000 years ago while Smeriyans were too aware of its creative energy. Egyptians would adopt Emerald for fertility and rebirth while the Moghuls in India, particularly Shah Jahan who envisioned the Taj Mahal also collected Emeralds.
Astrologically beneficial gemstones like Emerald absorb cosmic energy and transmit the same into its wearer via the power of their home planet. In our Bollywood, many artists have adopted Emerald to tune their fate. Ekta Kapoor, the diva of the Indian television industry, is a firm believer in Emerald.
Emerald is a gemstone of artists, businessmen, students, lawyers. Its energy brings in imagination that helps transform ideas into artistic expression. Emerald enhances memory and writing skills amongst students. It is one of the most powerful gemstones to ignite intuitive faculty in humans.
Emerald balances instincts with intuition and self-regulation and hence increases concentration power in students and performing artists. Emerald has found favor with weaker students as it inspires them to express whatever little they study which ultimately leads them towards improvement.
Businesses thrive when Emerald makes its wearer communicate astutely, clearly, and imposingly. This little gemstone known as Emerald or Panna in little finger could compel your partner to remain loyal to you for life be it a romantic, official, or professional realm of relations.
Now fulfill yourself with Magnificent Emerald exclusively at MyRatna.
https://myratna.com/gemstone/emerald